The 2021 Subaru Love Promise Customer and Community Commitment Award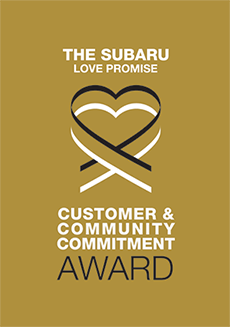 We've been nationally recognized for our dedication to our customers, our community, and the Subaru Love Promise.
We're honored to receive the 2021 Subaru Love Promise Customer and Community Commitment Award. This award nationally recognizes elite Subaru retailers who provide an exceptional customer experience at every interaction with Subaru. These retailers have also demonstrated an outstanding commitment to supporting passions and causes in their local communities in important areas such as the environment, community, health, education, and pets.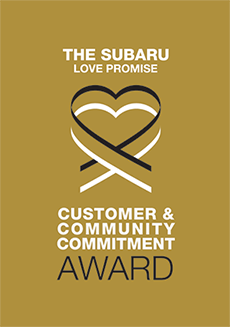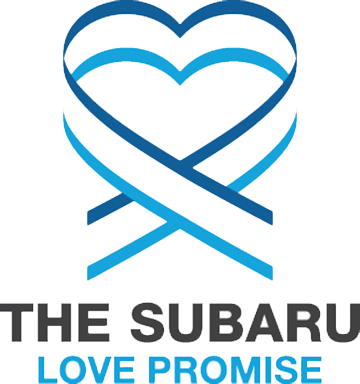 What is the Subaru Love Promise?
Subaru and our retailers believe in making the world a better place and the Subaru Love Promise is our vision of respecting all people. This is our commitment to show love and respect to our customers and to work to make a positive impact in the world.
How is North Country Subaru dedicated locally to the Love Promise?
Our Love Promise can be seen in various partnerships with local charities and non-profits. We're grateful for the opportunity, not only to be a part of our community, but to serve it as well. This is not just the area in which we work in, but where our families live and play. That is why we are so happy to be able to give back.
North Shore Animal League
Warren County Safe & Quality Biking Org, Abraham Wing School Certified Wildlife Habitat
Abraham Wing School Book Donations, Glens Falls Middle School Book Donations, Big Brothers Big Sisters of the S. Adirondacks, Harrison Ave Elementary School, Riley's Village
Under the Woods Foundation, Family Services of Glens Falls , Glens Falls Open Door Mission - Food Pantry
Churney Gurney MTB Race for Autism, Strides Against Sarcoma, Leukemia & Lymphoma Society, Riley's Village
Love Promise Stories from North Country Subaru
Subaru and North Country Subaru believe in making a positive impact on the communities in which we live and work. We uphold that belief through our Love Promise Community Commitment. Every month, we select inspiring stories from customers and partners from around our area who strive to support our collective commitment and feature them here
Helping us to save lives - Deborah O
Nigel is just one of the many cats and kittens rescued by our team at North Shore Animal League America's Adirondack Region Cat Adoption Center. Poor, tiny five-week-old Nigel was found wandering all by himself. He was very dehydrated, had a terrible upper respiratory infection, and a lice infestation. We were able to provide Nigel with the immediate medical care he needed to save his life and the supportive care and nurturing he required to heal over the next six weeks until he was finally ready for adoption to the loving home he so deserved. To date in 2020 our team has rescued 723 felines in need and have assisted with spaying and neutering over 900 felines in the region. Spaying and neutering helps reduce the cat overpopulation and the suffering that coincides. We are so appreciative of the staff at North Country Subaru for organizing the donation drive and for the monetary donation. We thank all of you and the customers who donated. It is because of caring people like you we are able to continue our mission of saving the lives of so many felines locally.
---
Camp Under the Woods Foundation - Kristin H
As a parent with two children on the autism spectrum, I wanted to write to Subaru thanking you for the generosity your business has shown to Under the Woods Foundation over the years. When my twin boys were 3 years old (they are now 16) the Underwood family began their camp and the opportunities this program has afforded my children has been invaluable. The caring and supportive staff that works with the children at this camp is second to none. This camp has provided a typical childhood experience that would not otherwise be available to my boys. Each year they look forward to returning to see their friends and the wonderful staff that have become part of their lives. They have made deep connections and friendships that will last their lifetime. The adventures of Camp Under the Woods and the memories we have as a family have been life changing and will be cherished for years to come! Opportunities like these are few and far between when you have a child with special needs. Camp Under the Woods is a special and unique place that we are so grateful for. Thank you, Subaru, for continuing to support this program. It truly means the world to our family as well as many other local families who have children with autism.
---
Camp Under the Woods - Denise B
Since adopting them, we knew they were special in many ways, but never diagnosed, until recently with Autism. I think it was Gods way of preparing us for our granddaughter Zoey who also was born with Autism. My adoptive son Arnold has attended this amazing camp since the age of 8 , and my Granddaughter Zoey since the age of 3. This camp is amazing, it is so hard for them to fit into the real world, Arnold is now age 15, but is more like a 6 year old therefore gets along with kids more that age, and My Granddaughter is a non-verbal Autism, full of life, and joy but has no real friends, besides her family, and Arnold the same. This camp allows them to be themselves, do activities like other kids, have friends and no judgement, or bullying which often occurs out in the world due to the lack of understanding for kids like our Arnold, Amber , Scarlett and Zoey. Camp under the woods is an amazing thing to have locally for all the kids in the area have Autism or other Sensory Processing disorders, Thanks to you, this camp is possible for our kids and many others. I only wish you could see how many kids your donation helps, the smiles , the laughter, the feeling of fitting in, the smile on my son's face when he says Mom I have friends, real friends. . Your donation is doing amazing things for our kids and many more in our community. Thank you for always donating to help all these kids enjoy life , and have the time of their lives in the week they spend at camp, it wouldn't be possible without people like you. I can't thank you enough for making this camp possible to mine and along with all the other kids out there like ours. Thank you from the bottom of my heart. In case I haven't said it enough your donation is doing amazing things. Thank you Denise Backus
---
Brant Lake Bike Park - Andrew C
I'm the owner of The Hub, a cafe, bar, and bike shop located in Brant Lake, NY. It's like a ski lodge or golf clubhouse, but for cycling. When we opened in 2014 we initially catered to road cyclists due to the great road riding opportunities and lack of local mountain bike trails. However, a mountain of potential loomed behind us. Three years later I was able to purchase Bartonville Mountain and surrounding 207 acres. Located directly behind The Hub, the intent was to build a single track mountain bike trail system. The park would be privately held but free and open to the public to use. I wanted to use a professional trail builder to build the best single track in the area, so I needed to raise capital to cover the construction costs. I did so by selling Founding Partner sponsorships to local businesses and through a crowdfunding campaign. North County Subaru saw the value in creating a new recreational opportunity in the area and signed on as a Founding Partner sponsor. Brant Lake Bike Park was born. North Country Subaru's participation as a Founding Partner ensured that we could build out the trails to the incredible view of Brant Lake from the top of the mountain. We named a trail "Constellation", a reference to the Subaru logo, as a nod to their contribution. I'm eternally grateful for North Country Subaru's help in making Brant Lake Bike Park a reality, as is the mountain biking community.
---
Subaru Loves Pets in the Adirondack Region - Jennifer P
All of NSALA-Adirondack Region felines are rescued locally from Warren County and the surrounding communities. They have been saved from suffering and untimely death; from situations such as neglect and abandonment. They are hungry, homeless and lack medical care for injury and/or illness. Many are trapped at properties with severe cat overpopulation, due to lack of spay/neuter in the region. Some are surrendered by owners that can no longer care for them and some are born in foster care from rescued, pregnant felines. Recently, North Country Subaru presented our organization with donations they collected during 'Subaru Loves Pets' month. We were overwhelmed by the generosity of not only the Subaru team, but their incredible customers. Donations included food, litter, toys, treats, blankets, beds and countless other items that are invaluable to our organization. Whether it be a toy for play, a bed for comfort or tasty treats, these items provide a touch of home and bring joy to the cats in our care. This enrichment, in turn, decreases their length of stay with us. After all, happy cats find homes! We also received many dog related items which helped out a very dedicated, small, local dog rescue that serves the needs of homeless pups in the immediate area. North Country Subaru's support extends well beyond the donation drive. Through social media, they educate the public about our organization and help shine a spotlight on our adoptable cats by sharing our 'Cat of the Week.' The support of our community has helped us save over 2,500 lives and provide spay/neuter services to over 2,700 felines. We can't thank the North Country Subaru team enough for joining us in our mission to rescue, nurture, adopt and educate.
---
Blankets and craft tins for kids - Vickie Y
My Name is Vickie Yattaw and I am the Oncology Education and Support Services manager at the CR Wood cancer Center of Glens Falls. We are honored to receive the donation of blankets and craft kids through the joint effort of LLS and Subaru. Each year these blankets are handed out to patients undergoing treatment at the CR Wood Cancer Center at Glens Falls Hospital. For many, this act of kindness and support mean so much to them. The craft kits for kids are given to children of patients are mostly handed out during our family camp and kids camp. Both of these camps are to help children and their families learn how to cope with the changes a cancer diagnosis puts on the family as a whole and each individual member. On behalf of the patients and families of the CR Wood Cancer Center, we thank you for your continued support.
---
North Country Subaru loves reading! - Brian G
On October 2, Zach and his team delivered 150 books to Abraham Wing Elementary school. Every student in grades K-5 received a book and learned a little about Subaru's Loves Learning initiative. Thank you Subaru for all that you do for our students!
---
Bringing Camp Under the Woods to a new level. - Robert U
Who would of thought that 11 years ago that our camp would move to from a small half day camp of 10-12 children to where we are today. North Country Subaru has been there along the way and the Share the Love program has enabled us to grow, expand offerings, and add opportunities. Over the years we have expanded our camp from 1 week to 2 weeks and now have moved from half day to full day camps. This year with the help of North Country Subaru and the Lendrum family, we were able to move to a full day camp of 2 sessions of 40 children. Renting out Camp Little Notch and running 2 full day camp weeks would not have been possible without Share the Love. Camp Under the Woods serves primarily children on the Autism Spectrum who would not otherwise be able to attend an outdoor camp. Through the generous support of Subaru and North Country Subaru, we are able to give the children a true summer camp experience. Campers were able to swim, canoe, whitewater raft, hike, play games, arts and crafts, and just enjoy the outdoors. The kids loved this years camp and we can not wait until next year to keep improving the experience for our campers. We love the outdoors and want to "Share the Love" of it with our campers. North Country Subaru is also a huge sponsor for our Churney Gurney Mountain Bike races each year which is a major fundraiser for our camp. Subaru contributes prizes and it is great to have the cars lined up there for our racers to see. The hours put in by the Lendrum family in set up, organization, and clean up are a huge help to our race and our foundation. And best of all the family comes out and races too. Thanks you to North Country Subaru for being there for us and supporting so much of what we do. Your giving back to the community is what Share the Love is all about.
---
Subaru Loves to Care - Jacqueline B
The patients at Glens Falls Hospital were so happy to receive blankets, which brought much-needed comfort and warmth.
---
PB Fest 2019 a success because of your support! - Lori D
Our first annual PB SummerFest 2018 (pickle ball festival) took place at Jenkinsville Park on June 1 -3. For a non-profit organization, creating new events is exciting and ours was a success-- in no small part due to the support of North Country Subaru. The purpose of the festival was to raise money for youth pickle ball programs in northeastern New York State. And, not only did North Country Subaru help us with monetary support, but Eric also attended the event to show his personal support! How amazing is that? We were so pleased to have him there watching participants learn from and play with a professional player as well as with each other. Their support helped us tremendously; and, as a result, we were able to purchase 20 paddles, 100 balls, and 2 new nets for the youth programs. We cannot thank them enough. Because of their kind generosity and interest in our event, many more kids will now be able to learn and play!Thank you Eric Lendrum and all the wonderful people at North Country Subaru for your kind support of our event and dedication to our community's youth!
---
Love of Animals - Carmine B
North Country Subaru certainly understands the love of animals. Recently they reached out to Friends of Phoebie Animal Rescue to partner up during one of their Love events. They not only had the bare essentials needed to help run a rescue shelter, they went above and beyond. The shelter has many expenses trying to rescue, rehabilitate and rehome all the animals. Thank you North Country Subaru for thinking about your community and your love for all the furry friends that need help.
---
NC Subaru Loves Pets - Summer S
We are an organization that focuses on rescuing, rehabilitating, and rehoming local homeless animals. Many of our fosters have come from abusive and neglectful environments, or have been completely discarded by their previous families, and by the time they walk through our doors, they are dejected, scared, and sometimes utterly traumatized. Our organization is oftentimes the only thing standing between them and euthanization, but animal welfare is an expensive endeavor and our expenses always exceed our donations. So, when NC Subaru reached out and offered to help raise food, supplies, and volunteers for us, we were thrilled to say the least ... and that was before we realized the extent of their help. By the end of October, they had collected an ENORMOUS amount of supplies that will keep our doors open and our organization operating for several months. It wasn't just food and litter, either, which of course we're greatly in need of and appreciate immensely, but there were also other items that most people don't think of, like flea treatment and lice combs; grooming products and supplies; stain and odor remover, laundry detergent, and other cleaning supplies; new fleece blankets; and other similar items that provide the cleanliness and comfort that are so important to our fosters ... a touch of home for them. Many people don't realize how something seemingly inconsequential as a new blanket and a special toy can make a displaced animal feel whole again. Most of our fosters have lost everything (if they ever had anything to begin with) and even though they are in a kennel environment, they still find happiness in the small things. So it's a big deal for them to come back from the playroom to find their special toy still there ... always there waiting for them, when everything else has gone away. Thanks to NC Subaru, we are literally waist high in new toys and new hope for our animals. On the day that the donations were dropped off, every single foster animal was surprised with new lovies and they went absolutely BONKERS over them! It was like Christmas for them and it was heartwarming to see. They especially love their little Subaru car toys with the double squeakers. It's hilarious listening to them all squeak them at once. As if that weren't enough, we received New Parent Kits filled with toys, treats, and all sorts of useful items for a new adopter; and Shelter Kits for our current fosters with toys, treats, a leash and a special bowl. It was all so thoughtful and touching. Thanks to the incredible generosity and outstanding efforts of our friends at NC Subaru, we are prepared to provide food, comfort, and warmth to our next several rounds of incoming fosters, and we couldn't be more grateful for this and for them!
---
Who Would Have Thought? - Christopher R
As principal of the Glens Falls Middle School I was a little confused when we were contacted by North County Subaru about their desire to donate a large number of new science books to our school. After a conversation with Zach Haas who is associated with the Suburu Loves Learning initiative my questions were answered and we arranged for a personal delivery to science teacher Megan McCabe's 2nd period 7th grade science class. After a very brief presentation explaining the company's commitment to aiding in the endeavor of educating our community's children, all students were allowed to select their own science book to take home and keep forever. Scores of other books were left behind for selection by other students later on in the school day. This relevant and honest presentation was artfully executed by both Zach and colleague Ashley under the sponsorships of the American Association for the Advancement of Science (AAAS) and Suburu Loves Learning. Our students loved receiving the gift books and I loved the notion of collaboration and partnership connoted by the entire arrangement through North Country Suburu. It should "take a village" to educate and develop our young students, and on this date, it did.
---
North Country Subaru delivers "warmth" - Christine K
North Country Subaru and the Leukemia & Lymphoma Society have graciously donated blankets and bracelets to the patients of the C. R. Wood Cancer Center to help comfort them during their treatments. Patients also received handwritten messages of hope, strength and encouragement from people who stopped by the Subaru dealership last month. Lunch boxes full of arts and crafts supplies were donated to the children of Cancer Center patients. Thank you so much North Country Subaru!
---
Every Little Bit Counts - Debbie O
The North Shore Animal League of the Adirondack Region (a no-kill cat shelter) purchased a Certified Pre-owned Subaru Forester from North Country Subaru in April 2017. In an attempt to meet as many of our guests as possible, co-owner/VP Eric Lendrum, greeted the owners during their purchase. The conversation turned to "social outreach" and the team at North Country had an idea: "let's use our follower-base to help get North Shore some more reach." Sales associate Dakota Morgan "took the reigns" and helped North Shore Animal League showcase a "Cat of the week" on the North Country Subaru Facebook page. With over 1300 followers, North Country Subaru has helped the North Shore Animal League get a foothold in the community and help grow awareness of their amazing organization.
---
Dining Out for Life - Matt
Dining Out For Life is an annual fundraising event raising money for AIDS service organizations. All someone has to do is eat at a particular restaurant during the event and a portion of their bill gets donated. One of the best parts about supporting a fundraiser like this is that the money goes towards local organizations. Subaru of America is the host sponsor of the event. North Country Subaru noticed that Rock Hill Bakehouse was the only local restaurant supporting Dining Out For Life and wanted to make sure people knew they had the opportunity to help simply by dining out. As such, they decided to use their social networks to promote and advertise this event to the local community in order to raise awareness of the restaurant and the cause. They also had 10 of their employees order lunch from Rock Hill Bakehouse who then donated 25% of the check to the fundraiser. This event had the double effect of supporting a local business and a local charity. The money raised from the event went to Alliance for Positive Health. They are an organization based out of Albany, NY who desires to reduce the impact and incidence of HIV/AIDS and other serious medical and social conditions. North Country Subaru and Rock Hill Bakehouse happily support causes to better the lives of all people, especially those who might be living in our own back yards.
---
"Making Lemonade" or Rather "Turkey" - Kim C
During the Holiday season of 2016, North Country Subaru partnered with a local/privately owned grocery store called "Lewis Super Market." The promotional concept was that any customer who purchased or leased a new or pre-owned vehicle would be given a voucher to be redeemed at the grocery store for a 20 lbs. turkey. Lewis Super is a locally owned and operated store and really liked the idea of us sending our customers to their store to redeem the turkeys to help promote awareness. North Country and Lewis Super collaborated on ordering, based on our expected volume; the irony was that a large percentage of customers elected not to redeem their turkey saying, "have the grocery-store donate it for me." When the promotional period was over, Lewis Super had 20 extra turkeys in-stock. Unlike a large chain, they were unable to justify the expense of these turkeys and literally ran out of space in their freezers for other products. This is when North Country stepped in. We purchased all 400 lbs. of turkey and brought it to one of our local food kitchens, "Glens Falls Open Door Mission." This is a charity we have worked with in the past and love what they do for the community. At the same time we were able to help another local business get community recognition. This is just another way that North Country Subaru "Loves to Help."
---
"Lemonde from Lemons. Or rather, Turkeys..." - Eric L
During the Holiday Season of 2016, North Country Subaru held a "Turkey Give-Away" to our customers who purchased or leased a new Subaru. All of the turkeys were purchased from a family-owned grocery store nearby. When the event was over, only half of the turkeys were redeemed by our customers. Rather than leave the burden of these 20 extra turkeys on the local grocery store, North Country Subaru decided to "BUY THEM ALL" and we drove them right down to the Glens Falls Open Door Mission; a growing community support center in our area that serves meals to those in-need. At over 20lbs. each, that was 400+lbs. of turkey! Of course, we made sure that there was space in their freezer before we arrived. We know they will make great use of this extra food and look forward to seeing how much the Glens Falls Open Door Mission grows in upcoming years.
---
North Country Subaru loves learning! - Brianna W
September was Subaru Loves Learning month at North Country Subaru. During the entire month, customers were invited to fill out self-adhesive name badges, which were applied to the inside cover of several hundred science books. On September 21, co-owners Jared and Eric Lendrum visited Abraham Wing Elementary School in Glens Falls to deliver the books and meet with school Principal John Godfrey, school Librarian Brianna Williams, and several students representing each grade in the school. Eric and Jared are both fathers, and so events with children are especially exciting to them. The children were enthusiastic about their school's new books (and getting to miss a little class time; their eyes lit up when they saw the hundreds of different science books being gifted to the school. Both Jared and Eric had an opportunity to speak with the children about history and science; with Jared even revealing during a talk about frogs that he has a degree in environmental science! At times, the children were so absorbed the new science books that it was difficult to hold their attention, which made the Lendrum's chuckle as they knew this was a wonderful problem to have. North Country Subaru does as much in their hometown community as they can, but the opportunities to help children always have been, and always will be, their favorite.
---
North Country Subaru loves the arts! - Candice F
North Country Subaru believes that involvement with the arts play a crucial role in early childhood development. During August 2016, they partnered with the Lower Adirondack Regional Arts Council in their hometown community of Glens Falls to sponsor a summer camp for children to create different kinds of art. The events featured fun projects such as "trash art", "silly hair", and "art in nature" which allowed youth to work with local artists as instructors in various mediums. The children were also encouraged to work on various side art projects in their own chosen medium. The final camp was tie dye, where North Country Subaru co-owners Jared and Eric Lendrum were afforded the opportunity to participate in the craft, bring gifts to the children, and were surprised with an awesome custom Subaru cut out hand painted by the kids! Eric and Jared had a wonderful time chatting and hanging out with the children. After seeing what a great time the kids were having, all agreed that a similar program will have to happen again next summer!
---
North Country Subaru Hosts "Drive For Hunger" - Dave B
The Open Door Mission is committed to meeting the hunger needs of folks in our area, but we can't do it alone! We are so grateful to everyone at NORTH COUNTRY SUBARU for hosting the "DRIVE FOR HUNGER" campaign which ran the entire month of July, 2016. They asked their customers to donate non-perishable food items to our weekend Backpack Food Program, which provides breakfasts and lunches on the weekends for over 300 area children in need during the school year. In return for their donations, their customers received a 10% (up to a maximum $25) discount off of their next vehicle service! Through this project, North Country Subaru payed us a visit with a Subaru Crosstrek FULL of food donations that helped fill our shelves before school starts again in a few weeks. This kind of investment in our community is what makes us proud to partner with North Country Subaru and we are so grateful for their role in helping us address the hunger needs of people in the greater Glens Falls, NY region. Thank you Jared, Eric, and Jenny and the rest for making this awesome food drive a success...you guys rock! North Country Subaru cares!
---
North Country Subaru races the train! - Tracy W
On August 9, Sales Associate Ed White attended the 14th annual RACE THE TRAIN, to benefit the Johnsburg Dollars for Scholars Association, on behalf of North Country Subaru. The event begins at the Reparius Train Station, where participants board the train and ride it to North Creek. Once at North Creek, runners race the train 8.5 miles back to Reparius. Runners range in ages from 3 to 70 years old and there are several other smaller races to accommodate them. Interestingly enough, in the 12 years that North Country Subaru has been sponsoring this event, it has never once rained! The race is competitive, but also a lot of fun.
---
North Country Subaru loves to feed! - Kim C
During the month of July, North Country Subaru offered 10% off service bills to their customers who brought in 10 or more non-perishable food items. The focal point of this campaign was to collect as much food as possible for The Open Door Mission, a food pantry in the hometown community of Glens Falls that has been serving the homeless and under privileged for over 30 years. Specifically, North Country Subaru asked for breakfast and lunch items to benefit The Open Door's Backpack Program, which feeds over 300 local children each week during the school year. The response to this drive was overwhelming, and North Country Subaru in conjunction with it's staff and customers were able to fill up an entire Crosstrek with items for the food pantry. On Tuesday, August 2, Jared and Eric Lendrum dropped off the contents of the Crosstrek at the food pantry and were generously offered a tour which proved to be both interesting and rewarding, as the shelves for the Backpack Program were in dire need of replenishment so they were able to see how their contribution would help.
---
North Country Subaru loves ATF! - Bridget D
On Tuesday July 19, co-owners of North Country Subaru Jared and Eric Lendrum brought sales associate Patrick Hallahan and marketing specialist Jenny Latzko to the Charles R. Wood Theater in Glens Falls to partner up with the Adirondack Theatre Festival and volunteer for their children's dinner theatre performance of "Stuart Little." Jared and Eric had the privilege of greeting the children and their families at the door, while Jenny and Patrick showed the patrons to their seats. The staff at North Country Subaru were able to meet the cast of "Stuart Little" and watch as the cast interacted with the children to make crafts and take their lunch orders. North Country Subaru has been a proud supporter of Adirondack Theatre Festival for years, and is grateful for the large amount of people that ATF draws into their hometown community to support the arts and local small businesses, a cause very close to the Lendrum's hearts.
---
North Country Subaru loves Camp Under the Woods! - Bob U
Camp Under the Woods Foundation is an incredible nonprofit organization that North Country Subaru has been supporting for years, but in 2016 they wanted to do something more. Camp Under the Woods is a summer camp designed to offer unique adventures to children on the autism spectrum and with developmental disabilities. For every new vehicle sold under the Share the Love program, Subaru contributed a large sum to the charity(s) of the purchasers choosing. North Country Subaru elected to have the Under the Woods Foundation to be their local charity option for their March 2016 event. North Country Subaru raised $7,907.00 via the Subaru Share the Love Campaign and in March of 2016 they hosted a very special check passing ceremony on the sales floor of their Queensbury, New York dealership. Representatives from Camp Under the Woods in attendance were Bob and Heidi Underwood, and were met by Jared, Eric, and Ken Lendrum as well as Subaru DSM Annie Esposito.
---